Bizopia – The Perfect Agency for Digital Marketing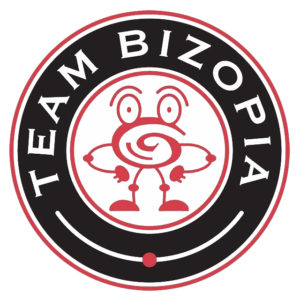 Who and what is Bizopia? Bizopia is a website design and development company in Houston specializing in digital marketing (social media marketing, PPC and reputation management) and search engine optimization.
Working in a family type atmosphere, Bizopia helps businesses, small to massive, manage their online presence by driving traffic to websites, blogs for news and social media pages (Facebook, Google My Business, Instagram, Pinterest, Twitter, etc) in hopes of developing relationships that result in increased sales of services and products.
Gary is the HEAD GURU of Bizopia and the chief sales guy. He is our main client contact person. We have a few others selling, but nothing like what Gary does.
Melanie is HEAD GURU of search engine optimization and social media marketing. She also creates the framework of all new websites. We have an amazing, Creative Team working with us in house…did you catch that?  All of our work happens IN HOUSE and that's very unusual these days. Many SEO and website design companies outsource overseas and you can't ever speak with a real person. With Bizopia, you can actually call and speak with a live body! Wild concept…huh?
Craig Tomas, our indispensable customer service GURU, retired in November of 2018 (EDITED 4/2020: Came back in November of 2019 for a few months to transition a new hire). That's a huge loss for Bizopia as Craig has been with us since 1994. Literally. He has been with us forever (okay – not forever, but with multiple companies, company sales, etc) and was a fabulous team player to work with. Craig handled billing, customer calls, and …. Gary & Mel 🙂
Eric Mulder is another very integral part of our family as chief DESIGN GURU. Eric handles most all of the layout, website design and development. He's mild tempered, amazing and creative, and he's great to work with….and did we mention LAID BACK? That helps in "high stress" deadline situations!
Tom Johnson, like Craig, has been around for a long time as well, and well…he's the money man. He keeps up with the many different flavors of client billing, payroll,  HR tasks and PPC analytics. He's Mel's "go to" when she needs a thoughtful,  massive Excel spreadsheet. He's in office for Bizopia and double-times as the head of Bayou City Shirts. Do you need a Houston screen printing or embroidery company? BCS is your one-stop shop for custom t-shirts, embroidery and promotional products. Bayou City Shirts does all of Bizopia's custom embroidery,  New Territory Tarpons' swim suits/team shirts/towels, and AHS's Athletic Booster Club's merchandise including fan shirts, sweatshirts and other AHS paraphernalia. BCS's Mirielle is a fabulous person to work with. Give her a call if you need something – 832.327.3200.
We've added to our team and shifted responsibilities around to cover. Since both Craig & Heather left us, Maria is now on the phones and handling our clients' PPC and Google Adword campaign reporting. She's got some spunk and energy, so give her a call if you need help with PPC. 
The Creative Team – well, WE HAVE FUN! The team of Shana, Jenny, Jonathan, Megan and Phoebee have FUN working together and helping businesses of all sizes get found online. The Creative Team handles the online, social media marketing for a wide variety of clients and industries ranging from boutiques and restaurants to downhole drilling companies and attorneys. Just ask one of us to share our "favorite clients" and you'll get a huge range of responses. Meet the team on Bizopia's ABOUT page – the pic is older, but we are working on that!
You can follow Bizopia:
Edited: 1/12/2021