Family Update 1/2019: Due to family, work, volunteering, this website consistently takes a back seat to everything else. It'll always be a work in progress but the photo uploads are much easier now that each kiddo has their own "photo book". Family websites are fun, but a lot of work. I'm on it – look for new pics soon!
Gary – still CEO/Owner of Bizopia (The Perfect Place for Businesses Online for SEO & Social Media Marketing) – plug plug! Still building websites, search engine optimization, and social media marketing – just huge these days with all the social outlets and PPC opportunities. Still on the board of a WONDERFUL youth football organization, Fort Bend Gridiron Football, still spending lots of time on sports – mostly baseball now. Can be found on TexAgs or other social outlets. Loves his Aggie Football team and has made MOST of the Aggie games in 2019. And yes, we were at the Aggie vs LSU game – SEVEN FREAKIN' OVERTIMES….YES YES YES! So fun!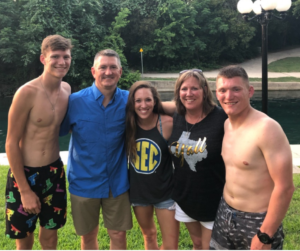 Mel – Working  full time for Bizopia. Summer again, brought on the challenge of working from home with two of three kids around, but managed to survive. School year brings travel to work like a normal person and TRAFFIC. Mel doesn't DO traffic. As a habitual volunteer, Mel managed to get herself elected as president of the Stephen F Austin High School Athletic Booster Club (shocker huh?) and still serves as the as chief website master & social media marketer for the group. Mel regularly says, "How did I do this with 3 kids?" Crazy busy still.  Really, nothing has changed 🙂 Mel officially resigned as a volunteer for the Fort Bend Gridiron Football League in efforts to get NEW BLOOD (and younger folks) involved. Mel still bleeds Maroon and with Aggie season tickets can be found at every home game (and a few away games) along with the Howdy Plus Tailgate pre-game! Gig'Em!
Chase – Chase is a full blown United States Marine and has been since February 2016. Currently stationed in Quantico, Virgian, he's LOVING the access to hunting and fishing. Opportunities that were not available in and around Camp Pendleton, CA. During his brief visit in January, we still came home from work and couldn't park in our own driveway because of the sheer number of trucks around. Not Chase's, but friends of his and Grant's – those that need help fixing/adding/updating truck parts. Love having all the kids around! Chase is an Air Crew Chief with VH-60s – look it up. FASCINATING stuff. Lots of praying for Chase because of his challenging duties and responsibilities – I'll leave it at that. We are really proud of Chase's decision to defend our great Nation as a job. Can't wait to see what the future brings.  More Chase >
Alexandra  – SENIOR at Texas A&M University in College Station. WHOOP! She graduates in May 2019, with a Kinesiology degree and is currently fulfilling an internship at Baylor Scott & White is C-Stat in the Cardiac Therapy Unit. Her FCST & high school swimming came to an end BUT….she managed to join the Texas A&M Club Team (shocking? nah…) at will be competing at Nationals for A&M. Love this sentence from my 2015 Update: Great end to a great career – some of us are a bit sad to see it end so abruptly but she sure is having a blast at Texas A&M.  HA! More swimming updates soon. Alex still bleeds maroon and we couldn't be prouder. She continued to lead A&M's "FISH CAMP' as a Camp Director this past summer while head coaching the New Territory Tarpons (summer team here in Sugar Land). We couldn't be prouder of Alex's grades, community involvement and general LOVE for life and A&M. She just LOVES it. More Alex > 
Grant – 11th Grade. Where do I start? So Grant has been playing high school football and baseball for 3 years now, right? This year he decided, when Varsity Football season was over, he'd just adding SWIMMING to the list of sports to play in high school. So basically, we are back to 4:30a wake up calls for such a great sport. He LOVES swimming with the Bulldog team. What a great group of kiddos. Great "end" to an otherwise lackluster football season. As a 6'6″ pitcher, we can't wait for baseball and for some Bulldog Baseball this year. Starts in February, right after swim season ends (they actually overlap HOPEFULLY 2 weeks – that would mean Grant made UIL Regionals. It's ugly, but it works in the water). Grant is throwing consistently in the low to mid 80's now as a junior with hopes of picking up 3-4 more MPH this season. With lots of weight training and lessons, we can't wait to see what the season brings. He'll be playing with Marucci Elite again this summer as baseball DOMINATES our summer plans. More Grant >  
Hopefully the Summer of 2019 will bring some memory making trips to New Braunfels on Memorial Day – YES, WE ARE AGAIN GOING TO NEW BRAUNFELS. This will be year 4 of Memorial Day floats again. WHOOP! The kids (Remys & McAfees) want to go back to Port Aransas this summer, so we are looking into that. Port Aransas all but got wiped off the face of the earth during Harvey. Hopefully 2019 will bring FULL CONDOSand FULL SEATING in their local establishments – it's been a hellish road for a place packed with memories for the Ledbetter clan!
Mel & Gary enjoyed Tulum, Mexico in a fabulous VRBO with great friends in November for a break in the action. Next up is Mardi Gras. Should be fun…..look for pictures soon!