Hey – has anyone noticed it's 2019? Wow…as usual, I'm a bit behind on updating the family website. I just hate it when the PAYING JOB and life gets in the way of fun. What a busy year….so far! We'll hit the highlights and catch you up on what the Remys are up to. Enjoy this very abbreviated synopsis of our year:
Oldest First – Chase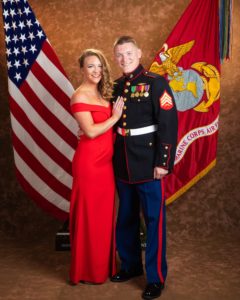 Chase is still a United States Marine and working with the HMX group in Quantico, Virginia. He's been a Marine now since February 2016 – time sure has flown. Being a Marine: We'll leave it at Chase is getting to see so many awesome parts of the world, and is making the most of it. He's an air crew chief on H-60's, loves the challenge and has fully embraced "the military way" for the most part. He's not really big on 800 yard sprints in combat boots – that's about the most negative thing I've heard him say. He's been to London, Afghanistan, Poland, and all over France/Spain multiple times, including a Normandy beach landing during the Celebration, just to name a few. VERY COOL! Chase was able to join us on our Memorial Day float in New Braunfels, and came home to be in James & Amy's wedding in September. Past that, he hasn't been home and Momma Bear might have to hop a plane over the holidays!! His Marine Ball pictures of he and his date, Shelby – what a beautiful event, and they cleaned up pretty danggood! That being said, on weekends, you can find Chase on the Potomac hunting duck – enough said! It's so great to see him in his element and happy!
The Middle Child – Alexandra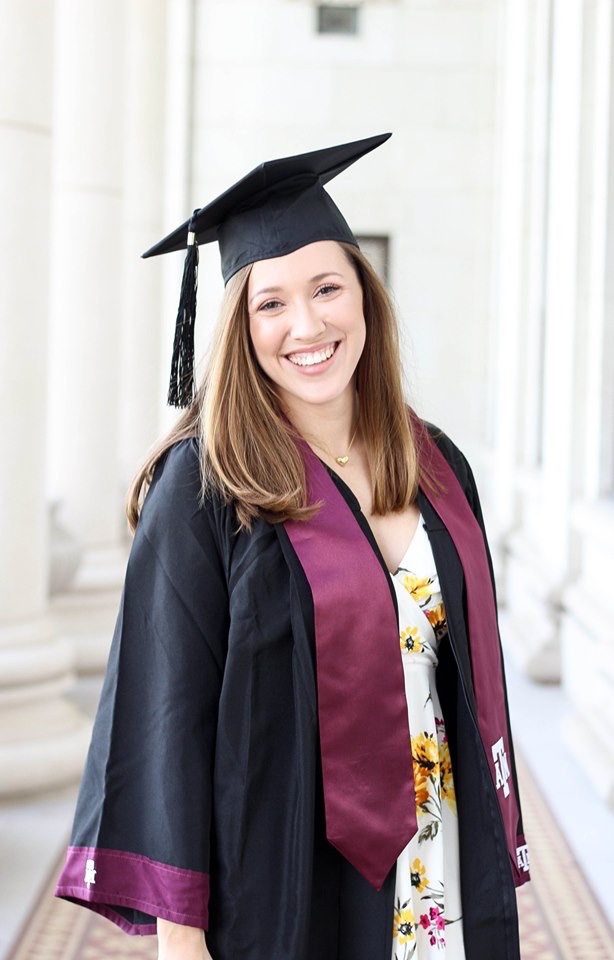 We are proud to announce that Alexandra graduated Cum Laude at Texas A&M University in May 2019…and ON TIME PEOPLE! She received an undergraduate degree from the College of Kinesiology with an emphasis in Exercise Physiology and Cardiac Rehab. She loved her internship at Baylor, Scott & White Hospital in College Station! As a grad student, she's currently employed by Texas A&M (Whoop!) and loves her job at the Exercise Science Clinic. Just loves it. It's so good to see your kiddos happy…so good. Busy as every with a few Fish Camp responsibilities and Class Council at A&M, she was SUPER bummed that she didn't get to coach for the New Territory Tarpons for the first time in a long time. She sure did miss her babies and they missed her! Alex did however manage to get to a few meets to watch Grant and the team race, and even made the first day of practice. She's still dating Colin and they are working the travel-thing out … trading drives between Dallas and College Station on a relatively regular basis. Colin is rocking his job with Sewell in Dallas – what a company, but missing his Aggies' games on Saturdays! We missed Colin at Thanksgiving this year and we are sure that he missed the annual inhalation of Tony Chachere! HA!
Next up is Grant. Where on earth do we start? From football, straight into the pool here recently, Grant is just busy. Actually an early exit from AHS football has allowed him a little more training time with the Bulldogs. Yes, at this moment, Grant is training full-time with the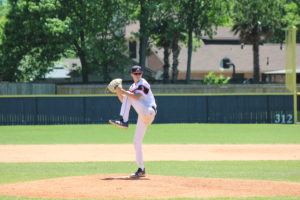 swim team. Bet you never thought you'd read THOSE words, huh? With Districts at the end of January, Grant is a busy dude with swim in the morning early (5:00a departure) and player-led baseball after school for a few hours. Grant's day starts EARLY and ends late with some type of homework or baseball activity. This summer was big for Grant as we traveled with Marucci Elite TX (Baseball) all over the great State of Texas, Georgia and Louisiana. The activity provided time for us to hang with old friends like the Brandts and  Hughes, and new team friends, like the folks at Joey's Glass in Baytown (Mistie & Robert)! Grant is currently enjoying the recruiting process for baseball from schools near and far (Connecticut, Boston, Ohio, Austin and even Houston). He has multiple offers on the table right now and is starting to stress on the decision. There are two schools that he REALLY likes. The struggle is real! The AHS Boys brought home the hardware from the TISCA meet in  Corpus Christi this year – first time in the history of the school! That's bragging rights for sure, for the youngest!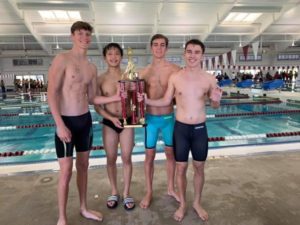 And to top things off, he has an offer on the table for swimming as well. Again, didn't see that one coming did you? Yeh, neither did we! HA!
As for Gary & Melanie, we are still holding the fort down at Bizopia (Houston Website Design & Digital Marketing agency), and loving our Creative Team. We have had a blessed year with some amazing new clients and are managing to stay exceptionally busy. Like really busy. Gary is still waking up at the crack of dawn to lift/workout with his friends and enjoying his Aggie football. Melanie is still involved with way too many things from charity organizations (Stevens & Pruett Ranch) to being the AHS Booster President one. more. year. We managed to get to New Braunfels with family including Wiltz (Mel's dad) and Melinda & David (and crew), along with a first-time trip to Mardi Gras in New Orleans with friends. We were accepted in with open arms into the Krewe of Pontchartrain, and saw Mardi Gras from a totally different perspective. The fancy-schmancy formal and float side. And we loved every minute. My pitching coach did NOT keep me under a 100 pitches, nor anyone else on our float, so we all gimped home with super sore arms after power-throwing beads for three hours. HA!
As always, Aggie football season is a huge ordeal. The Thursday night games. The 11:00am games. And the travel. While the Aggies need to work on their rankings so we can get BETTER game times, it's always fun with the Howdy Plus Tailgaters! We enjoyed hosting a few groups of friends for a few "reunion" type scenarios! Always great to see The Grays (David & Leslie) and The Wisenbaker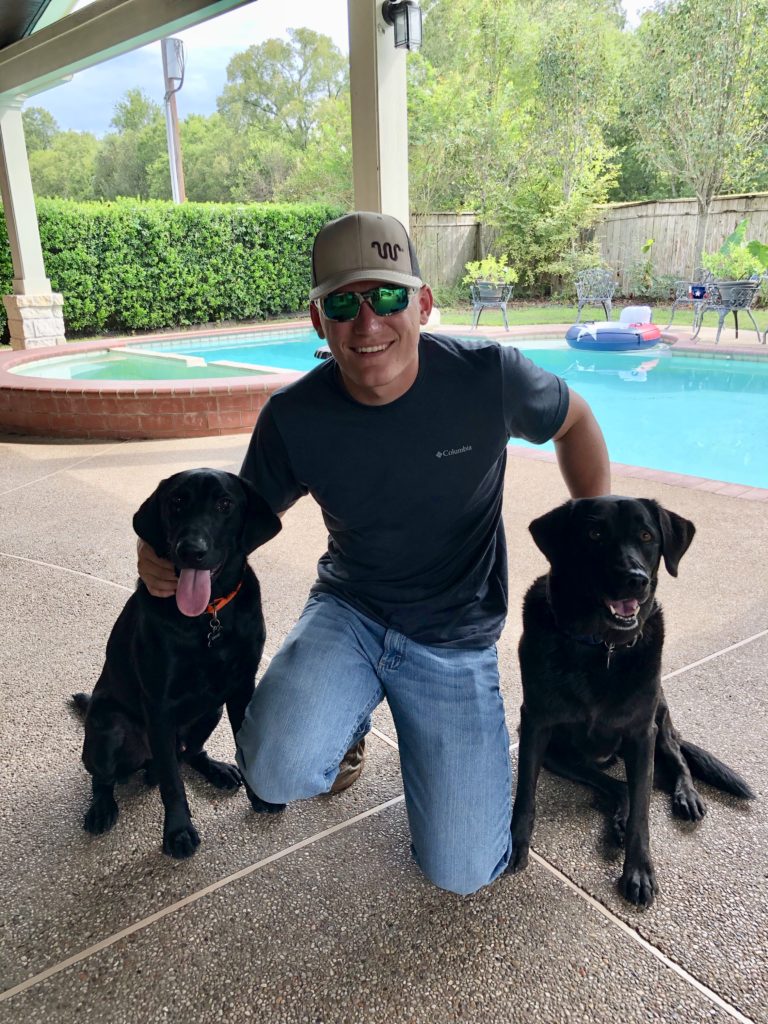 s (Randall & Tracy)!
As far as pets, yeah, we've added one. Drake – The Boy Dog. We can't figure out if Drake has added years to Cabela's life or taking them off – ha! As an retrieving-obsessed black labrador, purchased from Stringer Stretchers Outfitters and Captain Terry, Drake will retrieve anything and everything. Literally. Even if you didn't throw it. He's sort of like a cat…he brings anything and everything up on to the porch, then destroys it. Gary is thoroughly loving hunting with him, and playing "catch"  (not really, it's really playing "throw faster Dad") every morning at 5am and every evening before we go to bed. He's a retrieving machine, which is nice, considering The Girl Dog doesn't retrieve anything. Like nothing. Zero. The dogs should get their own page this year, sometime soon, because they are fun to watch together. Both swimmers, Drake picks things up off the bottom of the deep end of the pool (cool Pet Tricks), and Cabela "helps him out of the pool" and is there for moral support while blocking the steps. Fights do happen when Drake thinks the second step of the pool is his……it isn't. Cabela (9 years old) is definitely in charge! Oh…and we can't forget Quillen Mond, the hedgie. Melanie has been babysitting Quillen, due to the purchase of a puppy by Alex's roommate, and Mel is looking for back pay of some type. Hedgehogs…I don't get the attraction. He's super cute when he settles down, but does NOT work well with our schedule. A college kid's schedule yes….not a "gotta go to bed" schedule!
We've had many gatherings with Gary's family (Anita & kiddos and Larry/Dorothy). Anita lives relatively close by so Larry and Dorothy come in a bunch to help with the kids. Wiltz is managing good…better than most 79 year olds. Trips to North Dakota (pheasant hunting) and too many duck hunts to count, keep he and his lab, Mel (long story), pretty dang busy. An Alaskan fishing trip – bucket list item – happened for Dad in July and he was pumped that he and Mr. Hagwood got to go! During this trip, we had the pleasure of babysitting Mel. That was SO MUCH FUN watching all three, giant dogs play all day, every day. So much fun that they all slept like babies each night, so there were zero issues with night time activities and whining by Drake! What was even more fun was sharing Mel's behavioral chart with Dad when he got home…just like he and Mom did for us, when they kept the kids. Mel is actually coming back this week as Dad is embarking on another duck hunting somewhere, maybe Tennessee? I can not keep up with the man's social schedule.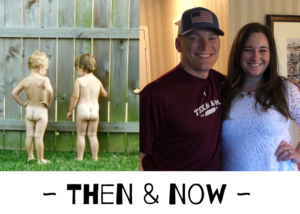 In April, Melanie met Chase for a visit to base and Katherine Pranka's wedding (Tom & Liz's daughter). Loved meeting her now husband Chris and wish them all the happiness in the world. It was a great party and Chase met some folks that he's kept up with in and around the DC area. As a fan of "recreating pictures", I just couldn't pull this one off – Chase & Katherine…through the years. Couldn't resist! Here's to a great first year, Kat & Chris!
I'm sure I'm missing something for sure, but I have to get back to work. Just wanted to get an update posted for the holidays! May you and yours have a blessed Christmas season and a very happy, love-filled, prosperous New Year! Had to get the New Year's plug in because we ALL know that I won't update this again until next year. HA!
Love to all!